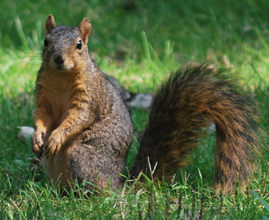 Yesterday I tweeted about how October is National Work and Family Month, hoping to keep the holiday in the minds of workers and managers everywhere.
The month was designated as such as part of a series of congressional resolutions dating back to 2003, with the most recent one passing in July.
According to the Alliance for Work-Life Progress, which came up with the idea, the month is meant to encourage "all workplaces to pause once a year and reflect on the progress already made on the journey to work-life effectiveness."
Clearly, it's an important designation, but after I tweeted about the significance of October:
"Hello, Don't forget this is Work and Family Month."
I got this response from @kamander:
"What month isn't?"
The tweet made me think. Indeed, every month should be work and family month. We typically work every month and family is a daily responsibility.
But why do we always have this need to designate months to various causes, especially causes that should be foremost in our minds everyday because they're so important?
Seriously, did you know October is also National Squirrel Awarness Month?
Turns out, October is a popular month. Here's a list from Wikipedia on all the month's observances:
These are all great causes and definitely deserve a month, but I get @kamander's point.
It would be great not to need a month for work and family issues. It would also be great if the flexibility workers needed was readily available in today's workplace. Alas, it's not.
Our research shows we still have a long way to go when it comes to making workflex a reality for all workers. That's what prompted our experts to put together a guide some are already calling the "WorkFlex Bible" to help employers get to workflex nirvana.
"Workflex: The Essential Guide to Effective and Flexible Workplaces, the Employee's Workplace Flexibility Toolkit," a new publication produced in partnership with the Society for Human Resource Management, will be released at the "2012 Workflex Conference: Reimagining the Workplace," later this month and it includes a detailed and comprehensive blueprint for employers on how, why and where to implement flexible options in the workplace.
We will also be launching our WORKFLEX: Employee Toolkit this month, offering workers a step-by-step guide on how to make workflex a reality for their careers. The Toolkit will be available for free download for employees and employers.
We're proud of the Guide and the Toolkit, and we're also happy it's coming out during National Work and Family Month, even though every month should be work and family month.
And come to think of it, shouldn't every month be Squirrel Appreciation Month?